Cold weather brings with it many things – smiles to skiers and snowboarders, outdoor rinks for skaters, and supplies for snowman creators. Unfortunately, it can also bring pests into your home. As the temperature drops, rodents begin to seek warmth and shelter to sustain them for the winter months. It's important to make sure they don't find a way into your home.
Most people with in-laws will confirm you can't always control your home's guest list. But don't fret, you can protect yourself and your property from these furry creatures. To help combat this potential invasion, we encourage homeowners to heed advice from our resident pest control experts and Specialty Service partner: Orkin Canada.
Denying Access: Entry Points
Rats can fit through holes the size of a quarter, and mice only need a hole the size of a pencil. The smallest openings in your home can serve as rodent entry points. Common places rodents use to access your home include cracks in your foundation and around doors and windows.
Check the exterior of your home and seal any unnecessary openings with weather-resistant sealant reinforced with steel or copper wool so rodents can't gnaw through. Make sure doors and windows are flush against their frames and the sill, and use weatherstripping to fill any gaps.
Deterring Interest: Preventative Action
Sealing entry points is just one step homeowners can take. Rodents come to your home in search of shelter and food. Implementing measures related to food storage and cleanliness will also help to keep your home pest-free. Consider:
Storing food in tightly sealed containers, preferably made of tin or plastic
Cleaning up water spills immediately
Vacuuming, sweeping, and mopping regularly to eliminate food waste and water sources
Keeping trash cans tightly sealed and disposing of trash often
We're Not Alone: What If It's Too Late?
If you suspect the worst has already happened and you might have rodents in your home, look for the following signs:
Droppings - Mouse droppings are about the size of a grain of rice and rat droppings are about the size of a raisin.
Gnaw marks - Rats and mice gnaw even when they're full, so look out for places in your home that appear to be chewed or gnawed, particularly around cracks and holes.
Rub markings - Rodents feel protected when they crawl along baseboards or pipe openings, so pay close attention to those areas.
Evicting Unwanted Tenants: It's Never Too Late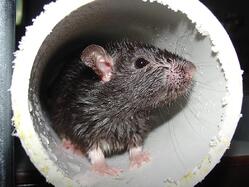 If you encounter signs of infestation, the end isn't nigh, but do make sure to keep safety as your first priority when addressing the issue. Rodents carry dirt and disease, so please don't touch them or attempt to resolve the problem on your own. Instead, contact a pest management provider immediately – they will help you with remediation and set up a proactive program to keep these pests at bay year-round.
If you have any questions or concerns about the presence of rodents, termites, or other pests in your home, reach out to Orkin Canada and they can advise you further.
We have partnered with a number of reputable and reliable companies who offer services outside the scope of a Home Inspection. Our Specialty Service providers help to assess issues such as: mold, indoor air quality, asbestos, well and septic systems, and pools. To learn more, please call 800-268-7070.